We're engineers. If you're an engineer yourself, or you know an engineer, it'll be no surprise to you to hear we're driven by an insatiable curiosity – continually researching, developing, experimenting. In fact, we spend over 20% of our time and resources on in-house research & development projects.
And this is where the spark of innovation is born. But that's not where it stops. We take the best ideas and transform them into award-winning products and applications to help you make the most of your vessel's performance – be it in terms of comfort, efficiency and/or sustainability.
The results speak for themselves, with independent industry juries worldwide acknowledging our various achievements. We're proud of all our innovative solutions.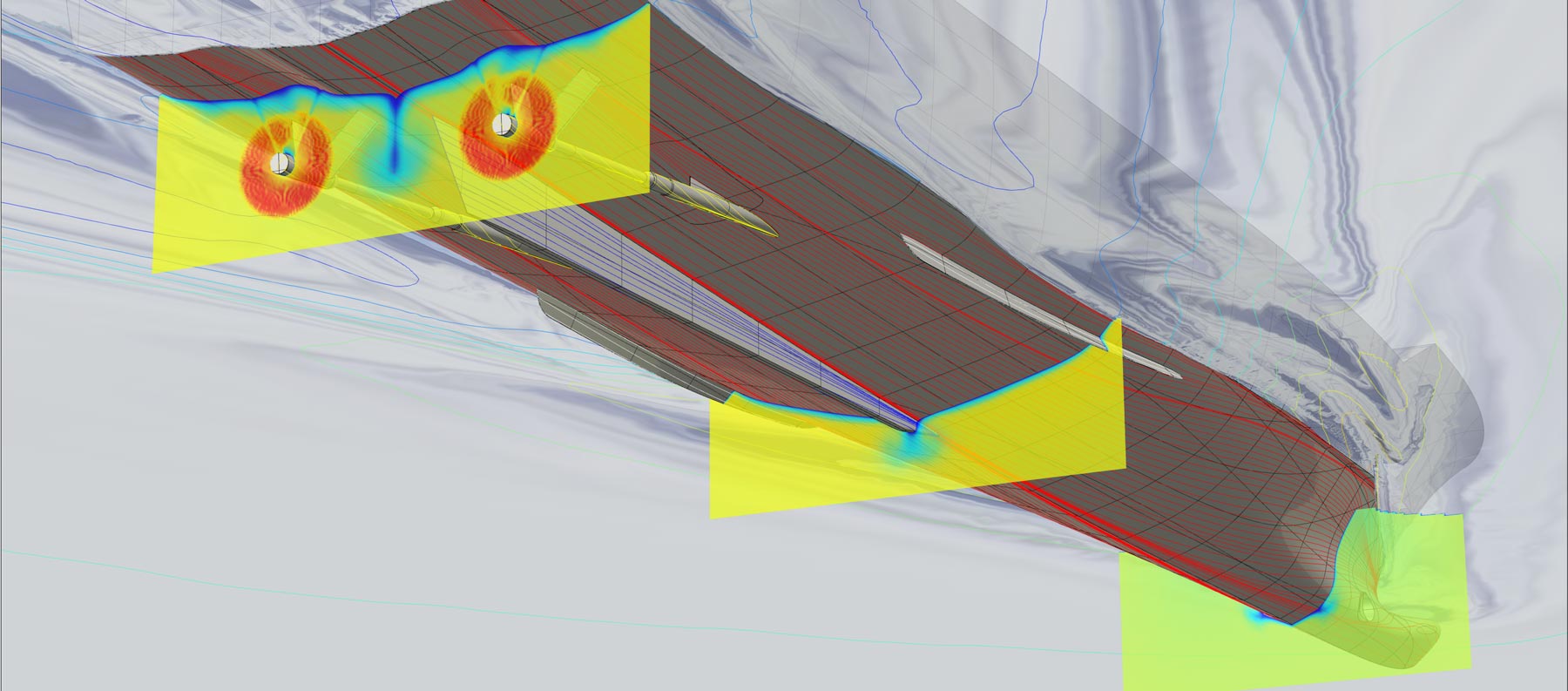 Fast Displacement Hull Form
As a hull designer, you're all too familiar with the challenges of designing traditional hull forms that operate efficiently and provide comfort at all speeds.
We've solved this headache with our patented Fast Displacement Hull Form (FDHF), suitable for virtually any type of boat, ship or yacht, and a wide range of applications and propulsion systems.
Quite a claim, but tests have shown time and time again that our FDHF outperforms conventional displacement and semi-displacement hull forms at low, cruising and maximum speeds – and even when planing. As a comparison, our FDHF's resistance values are typically 20% lower than a well-designed hard chine hull form at semi-displacement speeds.
optimal performance at all speeds

improved seakeeping & greater comfort

versatile application
Find out whether our FDHF could make the all-important difference in your vessel's design.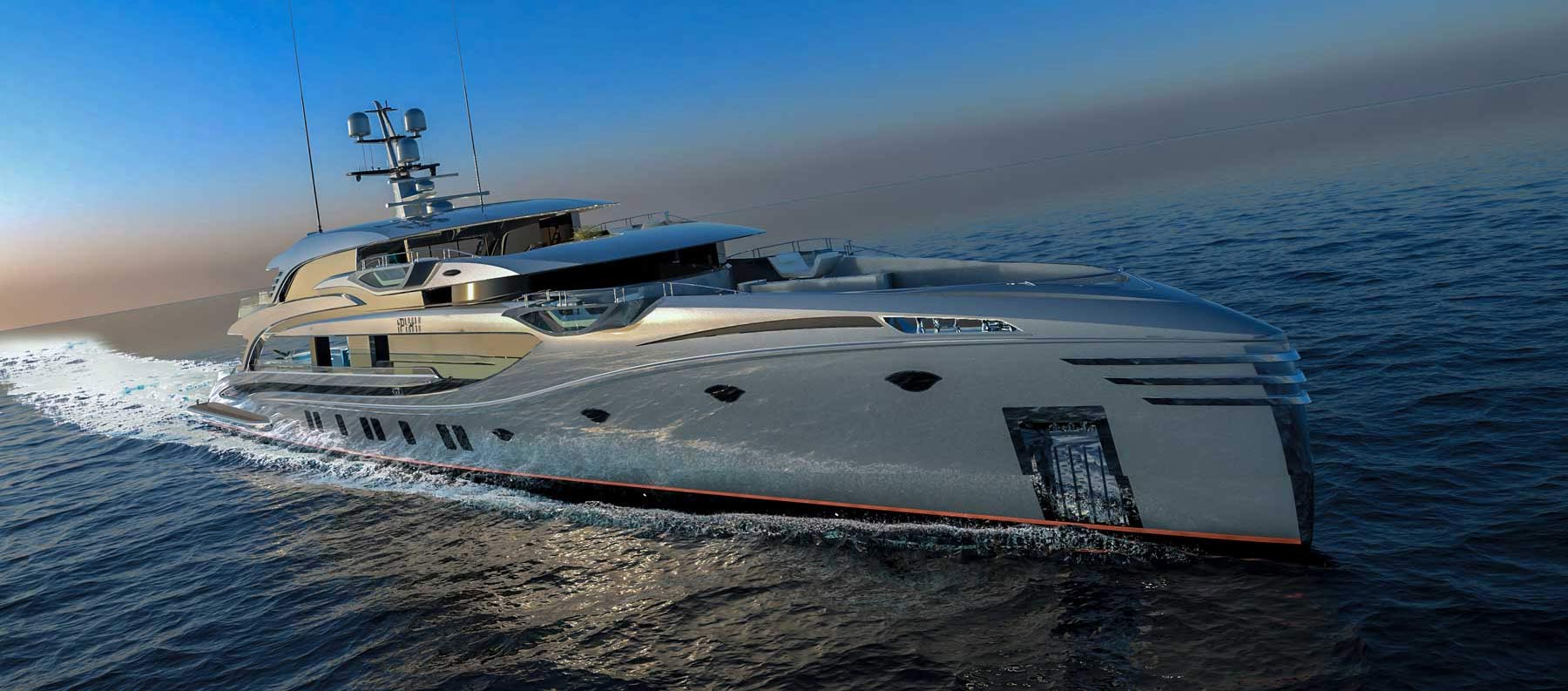 Fast Displacement XL
It's always a puzzle trying to optimise efficiency, comfort and space (on deck and below deck) for a vessel of a given tonnage.
Our patented Fast Displacement XL® (FDXL) hull helps you solve this puzzle. Hulls are up to 20% longer so you can provide that extra level of comfort and luxury or the additional storage/cargo space you or your clients are looking for.
What's more, you can achieve all this without compromising performance or efficiency.
maximum length for given tonnage

higher performance & greater comfort

maximised space (on deck & below deck) for leisure/cargo
Find out whether our FDXL design is the right fit for your vessel.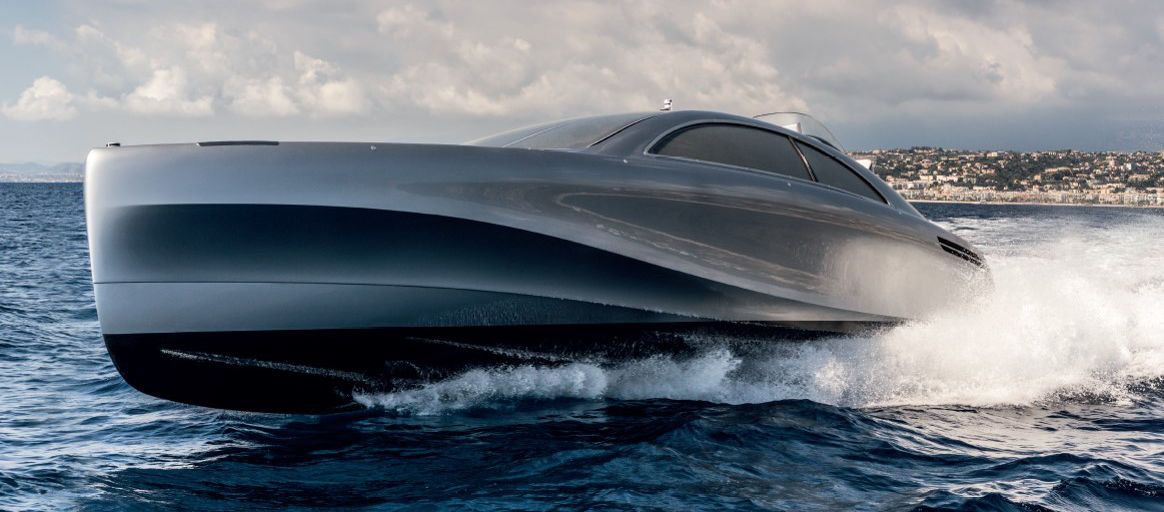 FAST PLANING HULL FORM
As a high-speed boat designer, you're all too familiar with the challenges of designing boats that give your clients not only the high-acceleration, high-speed thrill they seek but also the dry, comfortable, efficient ride they demand.
Well, we've solved this headache for you with our Fast Planing Hull Form (FPHF). It takes hard-chine hull design to the next level for ultimate performance, efficiency and comfort at high speeds, regardless of propulsion system or construction material.
This is why the likes of Silver Arrows Marine (Mercedes-Benz Arrow460 Granturismo), Wajer Yachts and Sichterman Yachts came to us to incorporate our FPHF into their designs.
optimised for high-speed boats
improved seakeeping & greater comfort
wide range of applications & propulsion systems
Find out how our FPHF could make the all-important difference to your high-speed vessel's design.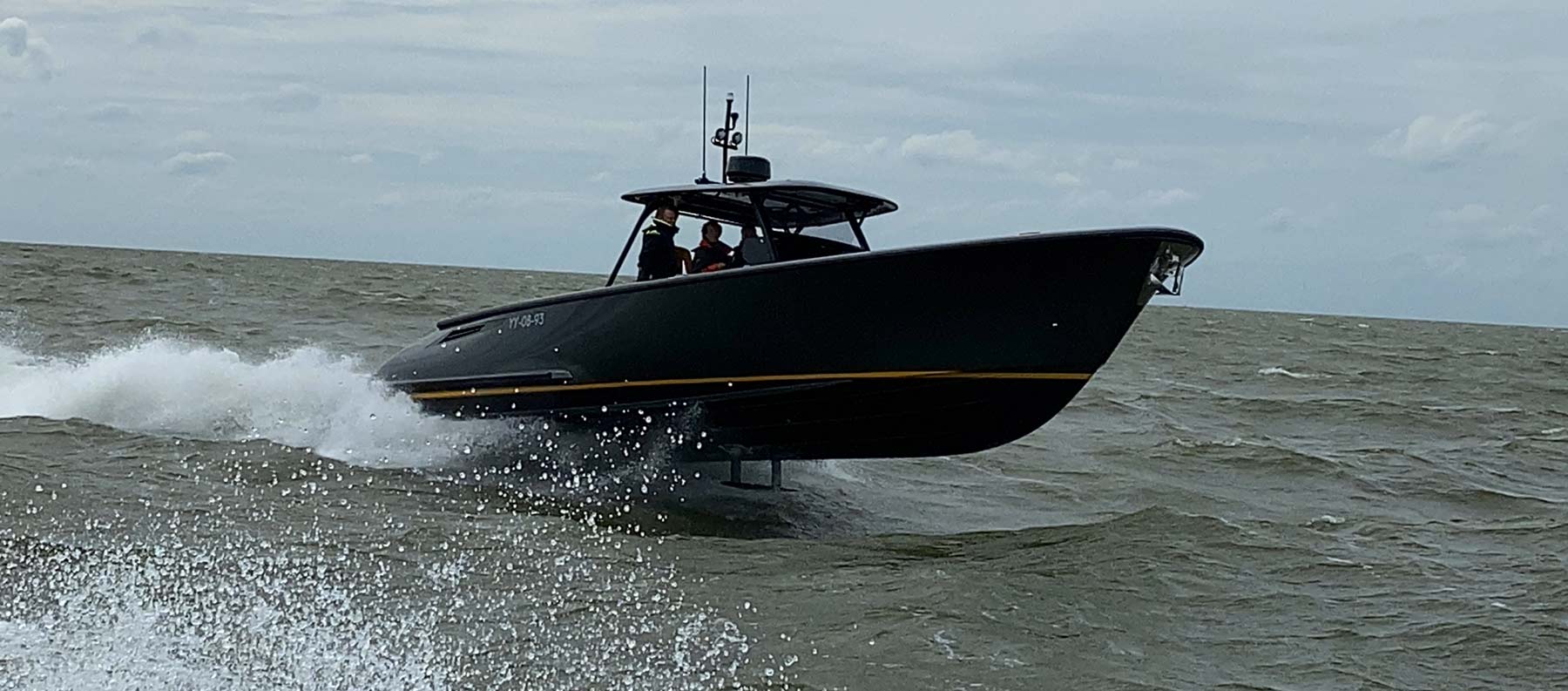 Foil Assist
Whether you're designing a vessel for high speed or operating your own at high speed, you'll soon run into deteriorating performance and seakeeping ­– slamming and a fair degree of discomfort for starters. But is there a way to minimise this at the design stage or even improve an existing vessel's handling? Yes …
You're looking for our patent-pending Foil Assist – a single hydrofoil appendage that not only helps stabilise your boat, ship or yacht, but also increases its speed and seakeeping significantly.
What's more, you'll experience reduced slamming and other unwanted accelerations, as well as improved fuel efficiency.
reduced slamming

improved operability

increased speed & fuel efficiency
Order our Foil Assist through our subsidiary Hull Vane BV.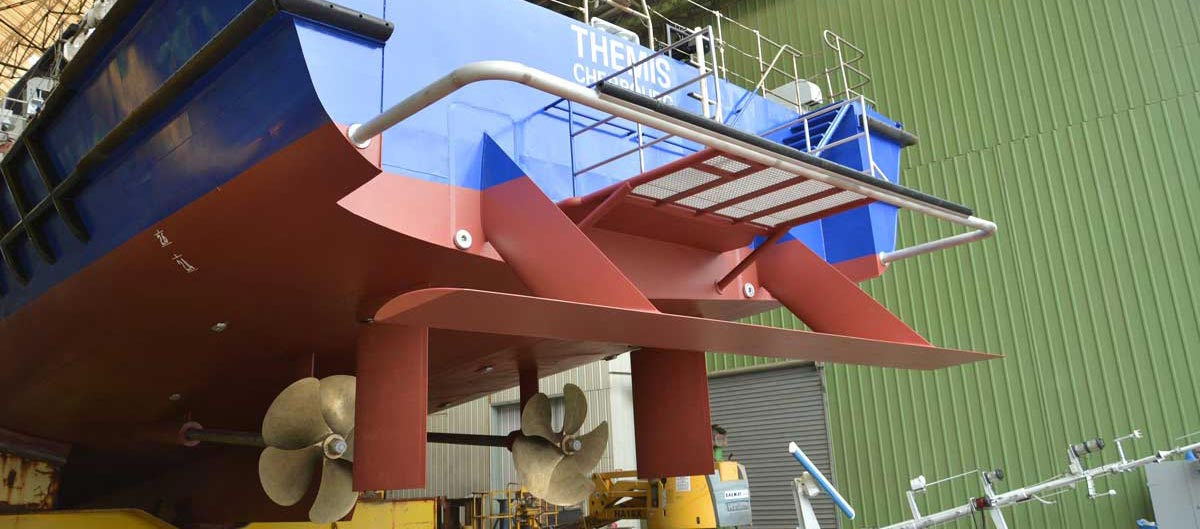 Hull Vane®
When looking for ways to improve fuel consumption, performance and comfort, there's a unique option you'll not want to overlook for your medium-speed displacement vessels. Our patented Hull Vane® is a custom-designed underwater 'wing' that attaches to your vessel's transom. How does it work?
It's an energy-saving device that uses the stern wave to provide forward thrust ­– reducing resistance and even dampening heave, roll and pitch in waves.
Depending on your vessel's hull form and operating speed, you can reduce fuel consumption by anywhere between 5% and 25%.
reduced fuel consumption, CO2 emission levels & operating costs

improved comfort & operability

increased top speed
It's with good reason that this unique and highly innovative underwater appendage has earned us numerous accolades and design & innovation awards from juries worldwide.
Enquire about a semi-custom or custom-built Hull Vane® for your boat, ship or yacht through our subsidiary Hull Vane BV.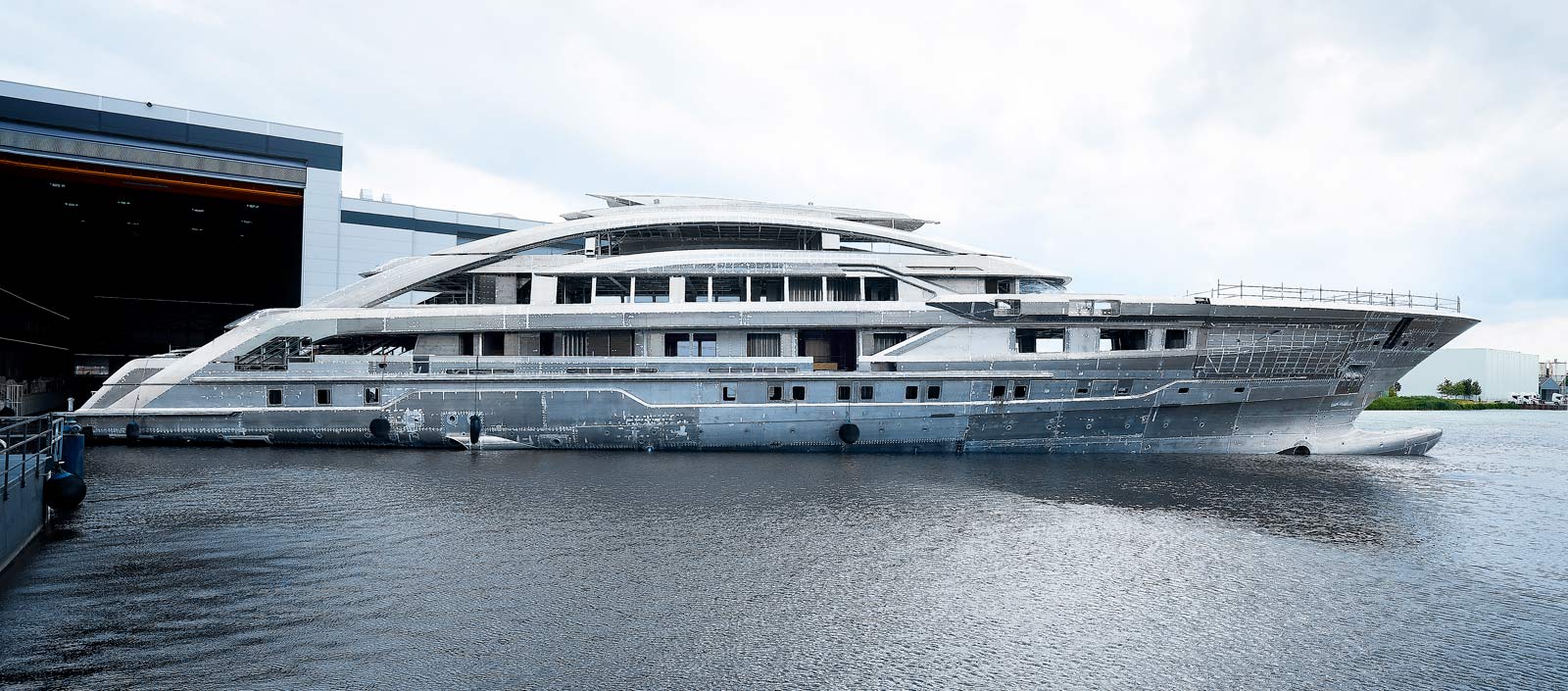 Backbone
As demand for larger and faster vessels increases, so do the design challenges – not only in terms of their hydrodynamics, but also their construction methods, safety and operability.
However, in collaboration with Heesen Yachts, we've solved one of the biggest of these challenges ­– the increasing longitudinal bending moments that arise in longer, high-speed vessels. We developed an innovative construction method that increases hull girder strength and stiffness without adding significant weight – all in an elegant, aluminium, slender-hull design.
greater strength & rigidity

no additional weight

increased safety
When strength and safety really matter, come and discuss our novel backbone design and construction methods.
The Yacht of 2030
At Van Oossanen Naval Architects, we love a good challenge. So, when the International Maritime Organization (IMO) set a target for a 50% reduction in CO2 emissions by 2050, we felt we could do even better, initially looking to the Paris Agreement's target of 40% by 2030.
Research & development and innovation are part of our DNA. We've been exploring the possibilities of energy-saving appendages, efficient hull designs and sustainable construction methods and propulsion systems for decades now. That's why we believe we've already got the basic recipe we'll need to create the Yacht of 2030, today.
Start with an aluminium Fast Displacement Hull Form (FDHF) vessel. Next, add our patented Hull Vane®, a hybrid propulsion system and auxiliary systems. With these ingredients, we've already achieved a 51.4% reduction in CO2 emissions at cruising speeds and an average annual reduction of 41%.
But we won't be resting on our laurels. Innovation never stops at Van Oossanen – we're convinced we can achieve the IMO's 50% target by 2050, and possibly even by 2030!
maximum efficiency at all speeds

lightweight aluminium construction

hybrid propulsion

energy-saving appendages

custom auxiliary systems
Don't wait for tomorrow's technologies to start cutting your CO2 emissions. Come and talk to Van Oossanen about the options already available today.
our Awards
We currently hold multiple patents for our designs and innovations. And it's with good reason that we regularly win international awards for 'Best Naval Architect' and 'Innovation'. The results speak for themselves, with independent industry juries worldwide acknowledging our various achievements. We're justifiably proud of all our awards and, of course, of all our team members who helped us win them!
Awards for Best Naval Architect
Awards for our Innovations