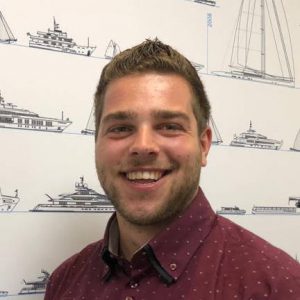 "A vessel's structure, weight and centre of gravity are paramount!"
Pim Hendriks
Pim became interested in how certain vessel parameters influenced the overall design process while studying Maritime Engineering at the NHL Stenden University of Applied Sciences in Leeuwarden (NL). He subsequently secured an internship for his graduation project at Van Oossanen Naval Architects that allowed him to follow and investigate these interests in more detail.
His research led to greater control of a vessel's structural weight and consequently the efficiency of the overall design process. The insights he gained into structural weights and centres of gravity helped improve not only the vessels' performance but also project performance as a whole. Pim's research is also paving the way to being able to automatically optimise a vessel's structural weight!