Whether you're looking for an internship or a graduation project, or you're wondering whether you could write your thesis at Van Oossanen Naval Architects BV, we'll make all the expertise, experience and resources available that you'll need to become one of the best in your field.
We've accumulated a wealth of expertise relating to hydrodynamics, computational fluid dynamics (CFD) and naval architecture – knowledge we gladly share with eager young graduate engineers as part of your professional development.
Van Oossanen has two internships available in:
Naval Architecture
Fluid Dynamics
As an intern, undergraduate or postgraduate, you'll also play a key role on our research & development teams and projects, for example:
The application of sails as a means of propulsion for an 80m cargo vessel
Fully automated optimisation of the aft-body of ships by means of CFD
Development of a new fishing vessel concept for South-East Asia
Contact us if your study is related to the maritime industry or you are simply interested in the latests developments. 
Oh! And below a few testimonials from our most recent interns: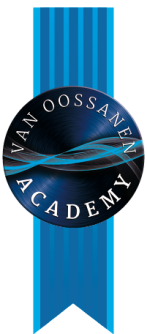 LENNARD BAL
With my background as a sailor in mind, I have always been particularly interested in yacht design and while studying Maritime Technology at the NHL Stenden University of Applied Sciences in Leeuwarden, I became more and more interested in the sustainability aspect. As Van Oossanen Naval Architects is one of the maritime companies at the leading edge of sustainability innovation when it comes to the application on yachts, I didn't hesitate a second when an internship became available.
During the research on the application of timber as a more sustainable building material for yacht manufacturing, we have gained valuable insights in the potential advantages timber has to offer. This research has been quantified by various simulations before being able to compare its CO2 footprint to those of the more common building materials. This research is another step towards achieving the CO2 footprint reduction in yacht manufacturing the industry is aiming for in 2030.
"Another step towards achieving the CO2 footprint reduction"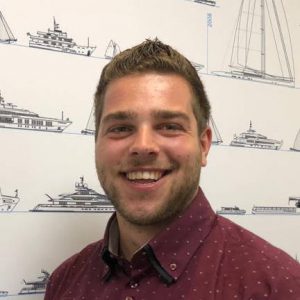 Pim Hendriks
Pim became interested in how certain vessel parameters influenced the overall design process while studying Maritime Engineering at the NHL Stenden University of Applied Sciences in Leeuwarden (NL). He subsequently secured an internship for his graduation project at Van Oossanen Naval Architects that allowed him to follow and investigate these interests in more detail.
His research led to greater control of a vessel's structural weight and consequently the efficiency of the overall design process. The insights he gained into structural weights and centres of gravity helped improve not only the vessels' performance but also project performance as a whole. Pim's research is also paving the way to being able to automatically optimise a vessel's structural weight!
"A vessel's structure, weight and centre of gravity are paramount!"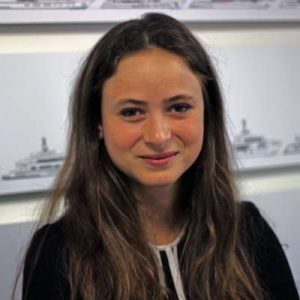 Silvia Casella
Silvia believes Artificial Intelligence and human creativity can help design better boats. She's working with Van Oossanen Naval Architects on her Master Thesis for her MSc in Marine Technology (Hydrodynamics) at TU Delft.
Her goal is to combine Artificial Intelligence and CFD tools to help naval architects optimise hull shapes for minimum resistance. The automatic routine she built during her internship does the job perfectly!
"Both naval architects and artificial intelligence love high-performance boats!"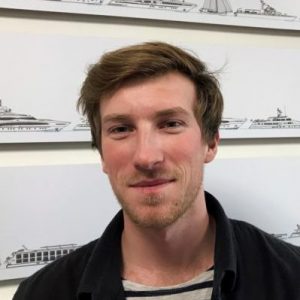 Julian Hofman
Julian's studying Maritime Technology and is particularly interested in the physics of hulls below and above the water's surface.
During his internship at Van Oossanen, he focused on developing our patented Hull Vane® for small motor yachts. He discovered that a 'simple' innovation like the Hull Vane® can have a huge impact on hull efficiency. And because the Hull Vane® can be fitted to a wide range of vessels, he sees a lot of potential for it in the near future.
"The true beauty of a ship is below the surface"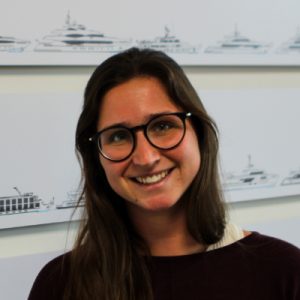 Luisa Menano de Figueiredo
As a graduate student in Marine Technology from TU Delft, Luisa's interning at Van Oossanen and helping design 'The Yacht of 2030'. Her goal is to combine yacht design and sustainability.
''Looking at the future''